This post contains affiliate links.
I hope you all are having a great Monday! We are getting ready to leave for vacation!!! Yay!!! Don't worry though you won't even know I'm gone. ha! 🙂 I have an awesome line-up of post all set to go with 2 amazing giveaways tomorrow, a "cool" feature post on Thursday & an awesome contributor post from Pretty Providence coming on Friday.
If you are looking for some Tie-Dye fun, check out Jedi Craft Girl's Tie-Dye Your Summer going on right now! Just click the button below to join in the fun! 🙂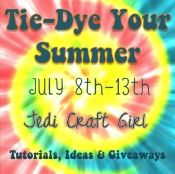 I also wanted to let you know how honored I am to be a part of the Lifestyle Crafts new Studios Team! I can't wait to get started with that, & to show you some fun things you can do with Lifestyle Crafts products. I love, love, love them! 🙂 To see the other bloggers on the team you can check it out over on the Lifestyle Crafts blog. It's an amazing group, and I can't believe I'm in there! So excited! 🙂

Before I head out I also wanted to let you know who won the Silhouette Portrait giveaway!!!!
The winner was Brenna. Brenna, I sent you an email. I hope to hear back from you soon! Congrats!! 🙂 You are going to LOVE your new Portrait.
Remember you can still get an ah-mazing deal on a Cameo, Portrait or Designer Edition software until July 10th. Just click the picture below & use the code GINGERSNAP at checkout. 🙂
Annnnnd last but certainly not least….today is our 19th wedding anniversary! Wowzers! That's a long time! I'm so lucky to married to this guy!!! I love him so much!!! 🙂
I hope you all have a great week, and I'll see ya when I get back. 🙂
Thank you so much stopping by my blog!
If this is your first time visiting I'd love to keep in touch.


Don't miss a post! Subscribe by email or bloglovin'.
This post was created for Ginger Snap Crafts by Ginger Bowie.