Thanks to Cricut for sponsoring this post. Affiliate links are used for your convenience.
Hello there! How was your weekend? Ours was filled with family (lots of cousins!), swimming & loving the amazing summer weather. Buuuut back to school will be here before you know it! Don't tell my kiddos! ha! So today I am excited to be participating in Craft Lightning's Back to School Series. Let me show you how I made this cute Back to School Photo Prop in under 15 minutes. Annnnd I'm answering another Cricut question for you today, too! Let's get started. 🙂
I hope you've been following along with my Cricut Question Series. You can find question 1 here & question 2 here & question 3 here & question 4 here & question 5 here & question 6 here & question 7 here & question 8 here & today we are tackling question 9 ~ Will it be easy for me to learn the Cricut Design Space software to create my own custom projects? Annnnd the answer is YES!
Recently Cricut release a brand new version of it's Design Space software. So far I am liking it a lot & finding it very easy to use. The easiest (& most fun way!) to create custom projects with your Cricut is by using different fonts. With the Cricut you can use just about any font that is already installed on your computer. Awesome! (Cricut also has some cute fonts you can purchase as well.) To create using fonts you'll need to follow 4 steps.
1. Click the text box on the left side of your screen.
2. Choose a font. Remember it can be any font on your computer (or one of Cricut's cute fonts that you can purchase).
3. You can make your words bigger or smaller by clicking here & dragging it to make your words bigger or smaller.
4. Double check that your font is the right size for your project. That's it! Easy peasy!
Send it to your machine & cut it out using your Cricut. Now let's get to that back to school photo prop tutorial. 🙂
For this project you will need a few supplies:
white vinyl
transfer tape
black paint
board
hand sander
sandpaper
My board was just a scrap piece of 1×6 I had in my garage. So this project was totally free for me. Yay!
I sanded the board really well, and then I painted 2 coats of black paint. Let dry.
Next, I applied my vinyl lettering to my board. That's it! So quick & easy! 🙂
Now all I had left to do was take some "fake" back to school pictures! haha!
I'm sure I'll be taking some real back to school pictures really soon though. 🙁
Enjoy these other back to school projects!
Click the button below for more back to school ideas from Craft Lightning! 🙂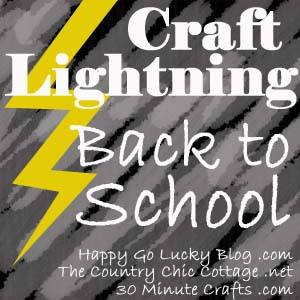 Are you ready for back to school? Let me know in the comments below. 🙂

Thank you so much stopping by my blog!
If this is your first time visiting, I'd love to keep in touch.