Hello! It's December! Eek! Time for making those wish list! ha! 😉 Today I've teamed up with several of my favorite blogging friends to bring YOU something a little special this holiday season. These eighteen amazing ladies have put together a basket of things they would LOVE to find under their own Christmas trees, and they are giving them away to make someone's holiday a little happier! It could be YOU! 🙂 So keep reading to meet the ladies that are participating, & you'll also see how YOU can enter to win one of these awesome baskets! 🙂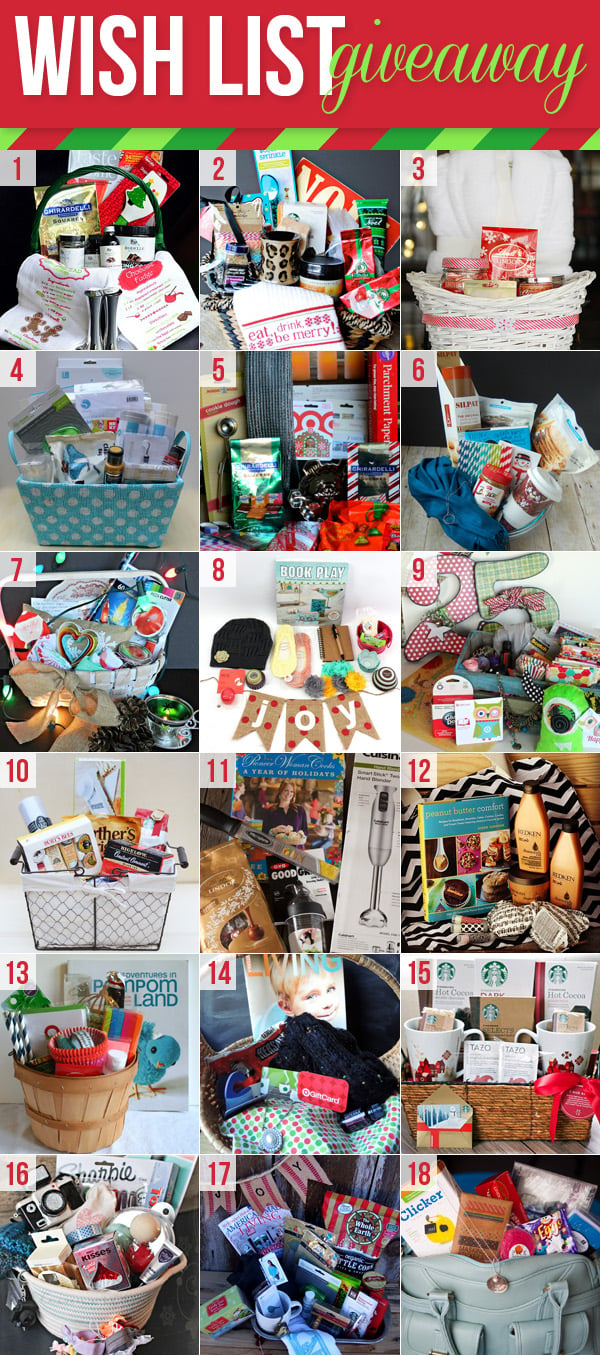 Please visit EACH one of the eighteen bloggers below to see what is in their basket. Every blogger is hosting a giveaway on their site, for their basket. So you will need to visit each blog & enter each blogger's individual giveaway for a chance to win their basket. Who knows, may be you will win more than one! 😉 Good luck!

1. Will Cook for Smiles // 2. I Should be Mopping the Floor // 3. The Gunny Sack
4. Ginger Snap Crafts // 5. Mom on Timeout // 6. Wine & Glue 
7. Redhead Can Decorate // 8. Happiness is Homemade // 9. Capital B
10. Bubbly Nature Creations // 11. A Family Feast // 12. Simply Gloria
13. Dukes & Duchesses // 14. Frugal Foodie Mama // 15. This Gal Cooks 
16. Kleinworth & Co. // 17. 504 Main // 18. Raising Memories

Of course, my basket is full of fun crafty tools & supplies that I can't live without! 😉
My Christmas Wish List Basket includes:
Genius Ultimate Platform System (can be used with Evolution, Epic 6, Big Shot, Cuttlebug & other name brand die cutting systems)
Silhouette Hook Tool
Sticky Thumb Adhesive Runner (2)
Silhouette Premium Transfer Paper (10 foot roll)
Silhouette Frosted Vinyl (4 foot roll)
Americana Decoupage (8 oz. jar)
Americana Multi-Surface Satin Paint (2 jars)
Lifestyle Crafts Letterpress Printing Plates ~ Striped
PSA Essentials Peel & Stick Stamp Sets (5)
Martha Stewart Crafts Adhesive Silkscreen alphabet stencils (2 packages)
Martha Stewart Crafts handled squeegees
QuicKutz 2×2 inch Flower Die
Silhouette Heat Transfer Fabric Interfacing ~ Sewable
Silhouette Heat Transfer Fabric Interfacing ~ Clean Cut
David Tutera Lace Jar Wrap
David Tutera Tags ~ 24 pieces
David Tutera Burlap Flowers ~ 16 pieces
David Tutera Bouquet Wrap
David Tutera Doily
David Tutera Paper Napkin Wrap ~ 12 pieces (2)
Bazzill Basics Paper Metal Tags
9 vinyl chalkboard labels
FAMILY vinyl
a bag of Cookies 'n' Crème Hershey Kisses (I love chocolate almost as much as I love to craft! ha!) 😉
cute polka dotted basket (I love polka dots, too!)
Enter to win my basket in the form below.
Winner must be a US resident.
While you're here don't forget to enter the
'Tis the Season $600 Giveaway HERE.
Remember the Silhouette Black Friday Promotion is still going on right now! 🙂
Visit the special promotion page & use the code GINGERSNAP at checkout.
Thank you so much stopping by my blog!
If this is your first time visiting I'd love to keep in touch.

 
Don't miss a post! Subscribe by email or bloglovin'.
This post was created for Ginger Snap Crafts by Ginger Bowie.