Good morning! It's that time again! It's time for another round of Team Creative Crafts with a giveaway. 🙂 This month's theme was anything related to organization. Annnnnd since it is January, I think organization was a fantastic choice. I know I am busy cleaning out, getting rid of things, organizing and simplifying our home. One of the best ways to do this for me is labeling. I love to label everything in our home. So today I am excited to share how you can make you own kitchen labels with your Cricut machine. Also, be sure to scroll down to the bottom of the post for tons of organization ideas from me and some of my favorite bloggers, and then be sure to enter to win a Xyron Creative Station Lite and 2 Cartridges Bundle with Storage Box. Eek! Let's get started! 🙂
To make these labels you will need:
Cricut Joy (or other Cricut machine)
Cricut Joy™ Smart Vinyl™ – Permanent (or vinyl scraps that you already have on hand)
Starter Tool Set
Cricut Joy™ StandardGrip Mat, 4.5″ x 12″
this Design Space file (you can customize these to fit your containers & for what you need)
You can see how to cut and apply vinyl labels right here.
Let me know if you make these! 🙂
For more ideas of how you can organize with your Cricut Joy be sure to check out this post or click the picture below. 🙂
Check out other organization tips from around our home below. Click the picture or the link for more. 🙂
5 Ways to Organize Your Kitchen
How to Organize Family Birthdays
Make Your Own Classroom Labels
Check out all these amazing organization projects from some of my favorite bloggers. 🙂
Creative Storage Solutions for your Craft Studio by Beth of Creatively Beth
Organize your Greeting Cards with a complete tutorial from Liz of Liz on Call
Create a DIY Desktop Organizer with Upcycled Items from Kimberly of Crafting Cheerfully
Get your Kitchen Organized in 2022 with a set of labels from Ginger at Ginger Snap Crafts
Crochet a Wall Basket for trendy storage with a free pattern from Heather of Homemade
Organizing your Spices just got easier with a collection of Labels from Teresa at Simply Made Fun
Make a Fun Desk Organizer with step-by-step directions from Elise of Polka Dot Blue Jay
Give Jars an Easy Upcycle into Colorful Craft Storage by Laura of Me and My INKlings
Easy Fabric Storage Ideas with Dollar Tree Supplies by Laura of Me and My INKlings
Shimmering Hair Tie Storage Hanger created by Lindsay of Artsy-Fartsy Mama
Organize your Refrigerator with easy to read labels from Laura of Laura's Crafty Life
Create colorful DIY Felt Trays with a tutorial from Smitha at Smiling Colors
Upcycled Chapstick Organization is easy and super cute by Shani of Sunshine and Munchkins
A brilliant storage solution with a DIY Blanket Ladder from Justine of Little Dove
Stylish Crocheted Storage Baskets with Free Patterns by Erica of 5 Little Monsters
DIY Pegboard Garage Storage for a Shared Workspace from Kelsey at Poofy Cheeks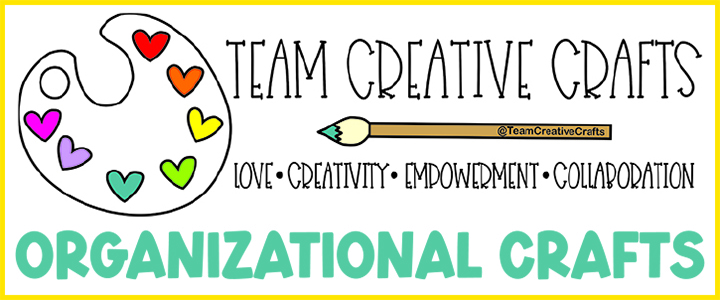 Enter below to win a Xyron Creative Station Lite and 2 Cartridges Bundle with Storage Box. Yay and good luck! 🙂
Connect with me on facebook or instagram.
Enjoyed this post? Never miss out on future posts by following us here.
Question or comment? Shoot me an email at ginger@gingersnapcrafts.com. 🙂
Thank you so much for stopping by my blog!

If this is your first time visiting, I'd love to keep in touch.
.