Time to announce the winners from our FABRIC challenge!
It was so fun to check out all of your 'pinspired' projects.
Great job to everyone!
First, a great big thank you to our amazing sponsor,
Fashionable Fabrics
.
As a fabric
hoarder
lover, I just cannot say enough
amazing things about this company.
They are so easy to order from and to work with.
And because they love their customers so much,
they are offering a discount!!!
*You can still receive 10% off your
order at Fashionable Fabrics until July 9.*
Use code: PINSPIRED
If you'd like, you can show them your support
and thanks by liking them on
Facebook
.
And now….
the winners are:
1st Place:

2nd Place:
Congrats!!! What adorable, great projects!
Please email Rachel at:
familyeverafter at gmail
Have a wonderful weekend everyone!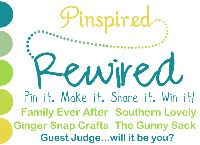 Thank you so much stopping by my blog!
If this is your first time visiting I'd love to keep in touch.