Welcome friends!
It's time to share all your wonderful projects made with FABRIC!
(Sewn or not, it doesn't matter!)
Today kicks off the link party, where you enter your fabric projects- anything goes!
+ next month's guest judge
2. You must have a blog to enter the contest.
4. Your project must be inspired from Pinterest. (Include a link to the pinspiration in your post).
5. Your project must have been posted within the last 60 days.
We can't wait to see what you come up with! Good luck!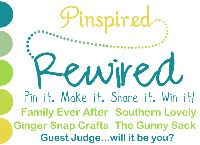 ');