+ next month's guest judge
*Tutorials for each project will be available on each blog next Friday.
2. You must have a blog to enter the contest.
3. You must place the Pinspired and Rewired Button in your post or on your sidebar (button found at the end of this post).
5. Your project must have been posted within the last 60 days.
6. The 4 hosts will be the judges, and will choose our top 3 favorites.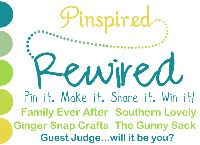 Thank you so much stopping by my blog!
If this is your first time visiting I'd love to keep in touch.