This post contains affiliate links, and I will be compensated if you make a purchase after clicking on my links.
Good morning! Happy Friday! This week flew by for me! How about you? Today I am excited to share this Simple Quote Block Tutorial with you ~ plus I have some fun details on Cricut's 10th Anniversary Sale! Eek!
Check out these ah-mazing deals from Cricut!
Get incredible deals at the Cricut 10 Year Anniversary Sale!
Get 10% off at Cricut.com and free Fed-Ex home delivery with code CRICUTSPRING!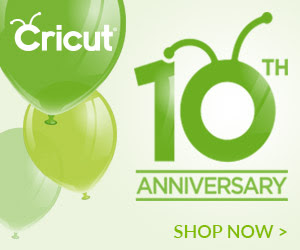 FREE shipping on orders of $35+ with promo code CRICUTSHIP
Get 75% off clearance items with the code GOODSTUFF
Enjoy 30% off cutting materials with the code STOCKUP
Take $20 off Explore One Bundles with the code ONE20
33% off Best of Cricut Cartridges! Save on 100 all-time best titles with the code TOPCARTS
Now let me show you how easy it was to make this quote block. 🙂 First, I browsed the Cricut Access image library. I saw this full hands full heart quote, & I knew it was perfect. Do you know how many times I've heard ~ "You have your hands full!"??? A lot! ha! 😉
I opened it up. Sized as needed & then clicked "go".
I cut it out using vinyl. (Vinyl is on sale right now! So stock up!)
Then all I had to do was weed the vinyl, & then I stuck some transfer tape right on top.
I probably should of done this step first….buuuut I didn't! ha! I painted my block of wood.
After the board dried, I lightly distressed it, and then I applied my vinyl lettering. Easy peasy!
This would make a great gift for a special Mom in your life. 🙂
Check out some more Mother's Day gift ideas below.
Be sure to shop over at Cricut soon. Deals are good as long as supplies last! Eek!
I'll see you back here on Monday! Have an ah-mazing weekend!
Thank you so much stopping by my blog!
If this is your first time visiting I'd love to keep in touch.
This post was created for Ginger Snap Crafts by Ginger Bowie.